Did you know that you can turn your WordPress site into a social network? A WordPress social network allows users to sign up, connect with each other, post messages, and more. In this article, we will show you how to turn your WordPress site into a social network like facebook.
How to create a site like Facebook
All that it takes to create a website like Facebook is to:
Buy a domain name
Get web hosting
Install WordPress
Install and configure your theme
Launch your website
What resources do you need?
You first need to pick out an available domain name. Then you can signup for hosting.
It walks you through every single step of the process in detail. It discusses everything from buying a domain name to finding web hosting to installing WordPress and more.
That's the greatest thing about WordPress, actually. It's so intuitive to use that it greatly limits the amount of resources you need.
Case in point:
You can get the site online on your own without hiring a web designer or developer. And this is without even knowing anything about web design or coding.
Why you should use WordPress
The benefits of using WordPress for your Facebook website – or any website, for that matter – cannot be overstated.
It's simply the easiest and most affordable platform to create the best-looking and most functional websites around. WordPress itself is free and will always remain free.
Due to its popularity, WordPress has attracted a massive developer community over the last 13 years it's been around. There are literally dozens, sometimes even hundreds of premium plugins and themes available to help you create whatever type of site you want.
And then there's the reliability. Thanks to its immense global popularity, WordPress is the most reliable web development software in the world.
It also features thorough support and helpful resources. Most themes have extensive video tutorials and FAQs to help new users conquer any problems they come up against.
To make a website like Facebook, you need two more things in addition to a basic WordPress website.
A theme will completely change the design of your site and add customization features.
The top WordPress themes use intuitive drag-and-drop builders so that you can quickly and easily visualize the changes that you make.
If you do run into questions, most WordPress themes typically have extensive customer support resources, including live support from experts.
For a social network, there are a few options, but Aardvark stands out as the top contender.
Why You Should Use Aardvark
When it comes to building a powerful social networking website with WordPress, there are quite a few themes available, but my first recommendation is the Aardvark theme.
This theme is highly customizable and includes tons of features. You probably have some sort of unique concept that will make your site different than Facebook. Here's an example page of Aardvark being used for a niche community site.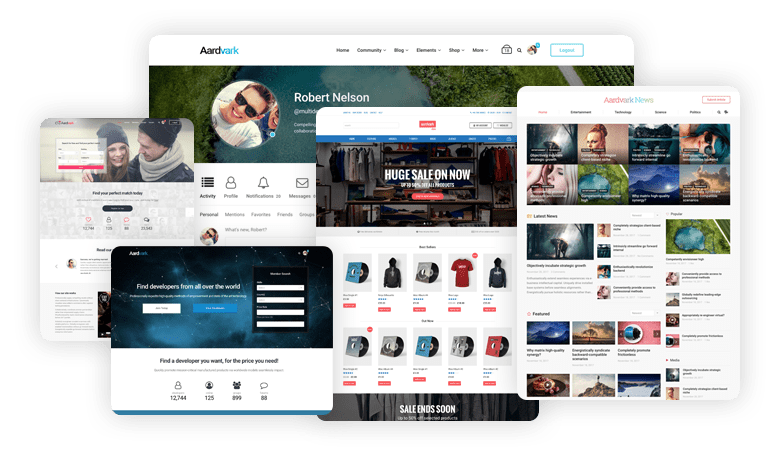 And there are plenty more examples available from the Aardvark page.
Aardvark is perfect for those looking to build an online community. You can even choose to monetize your new social site with the paid membership feature.
This WordPress theme also enables you to easily develop an online store using WooCommerce, run a blog, and add social media sharing buttons.
Another highlight of the Aardvark theme are the pre-built demos that enable you to see what your new website will look like with just one click.
Alternatives to Aardvark
Those that are looking for a slightly different theme to create a Facebook-like website should strongly consider Kleo and BeSocial.
Kleo is a WordPress theme that's known for its community-focused approach to building a social networking site. It's fully responsive, easily customizable, and comes loaded with all the most important tools and plugins.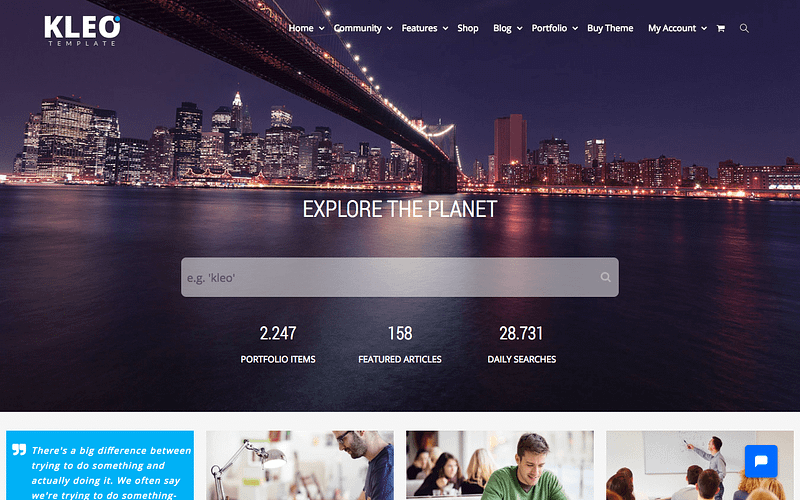 Besocial is another WordPress theme noted for its social media uses. It features an intuitive user interface, several beautiful pre-made layouts, and a host of social engagement tools that make it easy for your visitors to create and engage in their new community.